Attention Lady Maverick Basketball Players: There will be NO conditioning tomorrow morning Tuesday November 10. Hope to see you all on Wednesday morning at 6:50 am! Coaches Melvin, Meyers, & Weems

Attention Lady Maverick Basketball Players: There will be non mandatory conditioning starting on Monday November 9th - Friday November 13th. From 6:50 am - 7:30 am in Stapleton. Coach Melvin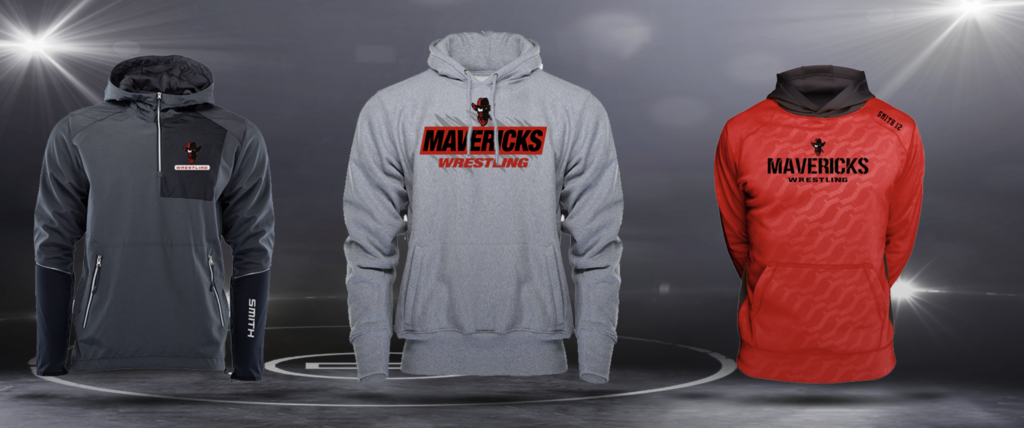 Due to increased positive cases of COVID-19 and direct exposures within our conference, the MNAC Volleyball Tournament will be played with no fans in attendance. Games will be available to view through streaming. Thank you for your understanding.
Today's Volleyball Triangular (10/10/2020) at Sandhills-Thedford has been canceled due to Covid-19. Please take necessary precautions as we approach the end of our regular season. - Jason Wehnes Sandhills Valley Athletic Director 

Just a friendly reminder for the MNAC volleyball contests at Arnold. Cost will be $5.00 for anyone that comes. Fans will need to sit in their assigned section. Please wear a mask. At the conclusion of your team's game, you will need to exit the building so the school can quickly clean. Do not hang out in the hallways. You may arrive 30 minutes prior to your team's game, but will not be admitted in until the gym has been cleared and cleaned. We want our fans, athletes, and coaches to be safe so we can finish the year. If you are not feeling well, please stay home. All games are livestreamed. Coach Florea
Maverick Fans! Support YOUR Sandhills Valley Mavericks by attending today's game in person (in Tryon) or virtually using the Sandhills Valley STRIV Channel.
https://striv.tv/channel/sandhills-valley/
Go Mavericks! Go Mavericks!


Lady Mavs are ready for some volleyball!

Order of tonight's games are Brady v Paxton Game 2: SVM v Paxton Game 3: SVM v Brady

Brady triangular spectators will need to wear a mask and there will be no concessions. Go Mavs!

MCS students, I can do baseline tests Thursday in the elementary computer lab. 1:00 pm. If this doesn't work, I can try and work you in on Friday. It takes approximately 40 minutes. All students in grades 7-12 need to take the baseline. Thank you!
9-12 Maverick Parents! Tomorrow is the first day of Fall Sports practice! As stated in last week's Fall Sports Meeting, three forms are a MUST prior to practicing. - Covid-19 Liability Form - NSAA Consent Form - Completed Physical Form for: (ALL Incoming Freshmen and/or Transfer Students) You can find copies of the Covid-19 Liability Form and the NSAA Consent Form pictured below. Please email the Athletic Director at
jason.wehnes@stapletonschools.org
for any questions.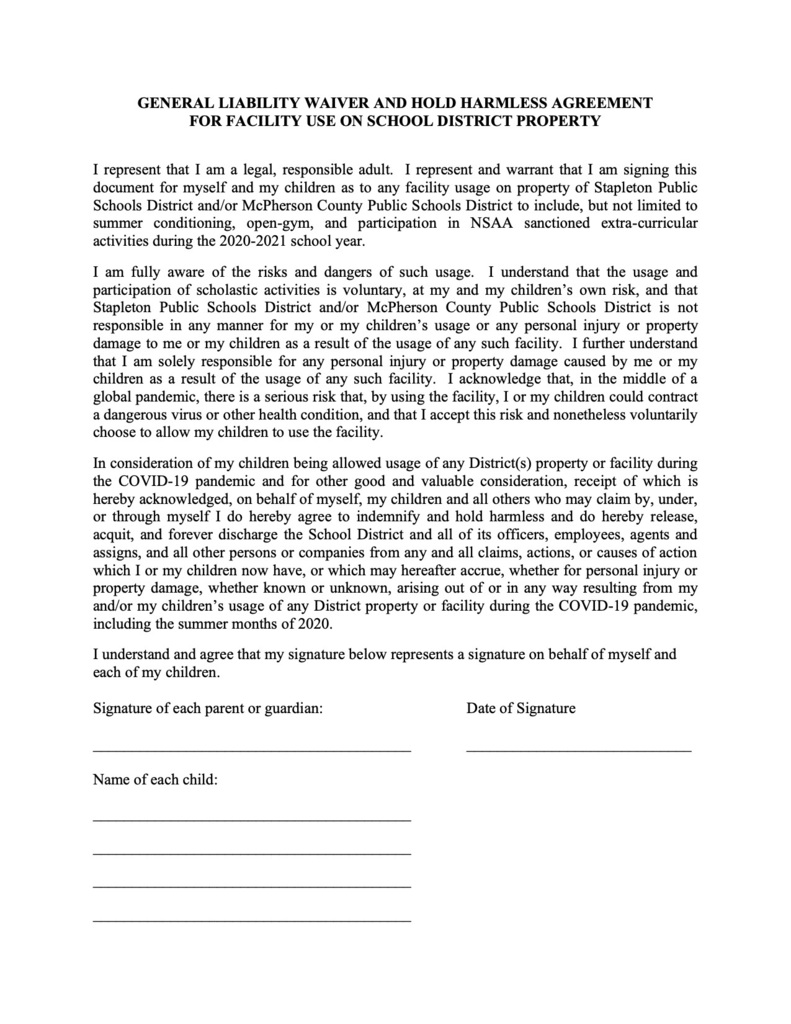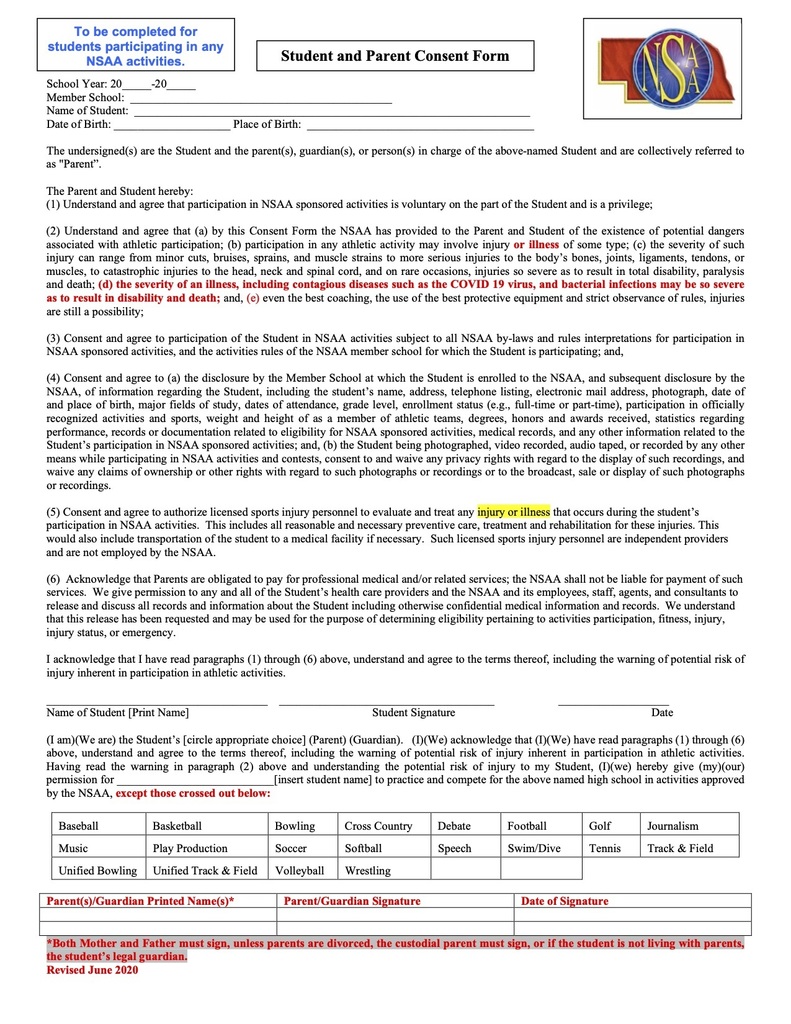 Maverick student-athletes! A friendly reminder that you are required complete a pre-participation physical before 08/10/2020 if you fall under any of the criteria below. * Incoming 7th Grade Student (All students regardless of sports participation) * Incoming 9th Grade Student-athletes * Any new student-athletes (Grades 9-12) Please refer any questions to Athletic Director (Jason Wehnes) at
jason.wehnes@stapletonschools.org
.
Cross Country practice will begin at 4:00 PM at Stapleton on Monday 08/10/2020. - Coach Kloke
Due to high likelihood of rain tomorrow morning we will not have FB camp. High School and Junior High conditioning starts Monday at 7 am until 8 am. See ya there. Coach Connell
Mavericks Football. As of right now, we are good to go for camp tomorrow for grades 7-12. We will have camp tomorrow and Thursday from 8-11 am. Do not forget, if you have not turned in a signed Covid Waiver you will have to turn one in prior to participating in camp. Also if you fall into the group that should be self-quarantining, you must have a negative Covid test to participate. Finally, you will need to bring your own water bottle. We will have fill stations to fill them up. This is still an opportunity to get better and give us a jump start on our transition to 8-man. I encourage anyone that can make it to do so. See you tomorrow, Go Mavs!!! Coach Connell
Maverick Friends & Family, Due to unforeseen circumstances, the Sandhills Valley Football Camp will be postponed to later dates. Grades 7-12 will be held on Wednesday and Thursday (July 29th - July 30th from 8 AM to 11 AM) and grades 3-6 will be announced at a later time. If you have questions regarding this, please feel free to email the Athletic Director (Jason Wehnes) at
jason.wehnes@stapletonschools.org
.